Padrão MVC - explicado e aplicado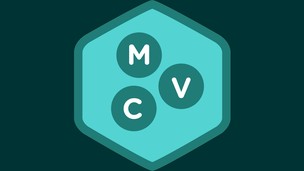 Neste curso você aprenderá de uma forma simples e rápida o padrão MVC (Model-View-Controller) em apenas 30 minutos!
Uma boa parte dos programadores ainda desenvolvem sistemas de softwares sem seguir quaisquer padrões de projeto. Você verá que o padrão MVC diminui a complexidade no desenvolvimento de aplicações através da separação de interesses, isolando a lógica de negócios da interface gráfica com o usuário.
Muitos frameworks de aplicação comerciais e não comerciais foram criados tendo como base esse modelo como, por exemplo, ASP.NET MVC, Apache Struts, Spring MVC, Cake PHP, entre outros. Portanto é imprescindível que você entenda o padrão MVC antes de começar a trabalhar com qualquer framework que siga este padrão.
Este curso é rápido, prático e objetivo. Comece hoje mesmo!
Fazer este Curso
Bibliografia Recomendada
Your ultimate guide to building a complete web application using all the capabilities of Spring MVC.

This book takes a clear approach, focusing on one topic per chapter, but interspersing other issues in the mainline text and in chapter detours. Taking a practical approach, it discusses agile web development using Struts 2, with plenty of examples for better understanding. This book is for Java developers who are interested in developing web applications using Struts.

ASP.NET MVC 6 helps you build robust web applications using the Model-View-Controller design. In today's age, it is crucial that you possess the ability to separate the programming and business logic, and this is exactly what your ASP.NET MVC 6 application will help you achieve.

CakePHP is a leading PHP–based web app development framework. When asking a question on forums or chat rooms, many CakePHP beginners get little help from the experts.